Mittelschule / Junior High School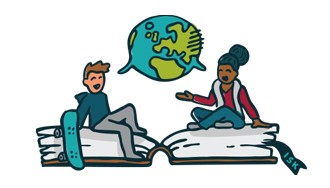 Bilingual (German / English) lessons with subject teachers and native speakers, building on many subjects
- History
- Mathematics
- Basic Digital Education
- Geography
- Handy-Crafts
- Art
- Biology
- Music
- Exercise and Sport
Achieving the Cambridge Certificates depending on the level of knowledge of the student
For newcomers:
MOVERS: CEFR* Level A1
FLYERS: CEFR Level A2
For advanced students:
Level B1
Level B2
Level C1
* Common European Framework of Reference
Entry from other elementary schools without a focus on English is possible
English is also practiced in shared leisure time. Students are immersed in the second language throughout the day
English language week abroad in 4th grade
English summer camp during the summer holidays
Art, culture & music projects in English and German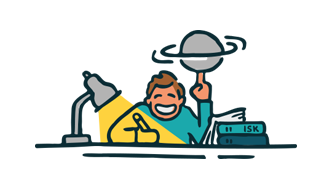 Full-day class timetable
Core class times from 8:15 am to 4 pm
Extended care hours 7 am to 5 pm possible
Kernzeit von 8.15 bis 16.00 Uhr
Erweiterte Betreuungszeit von 7.00 bis 17.00 Uhr möglich
Full separation from the 2nd grade on
in German, Mathematics and English in the performance Levels "AHS Standard" and "Standard". "AHS Standard" means that the requirement level of a grammar school is available.
Our foundation is the Austrian curriculum for lower secondary level
Differentiation and individualization in the classroom
Promotion of interests and talents
Modern classrooms, with modern flexible school furniture, computers or tablets are available in the classrooms
Max. 22 students per class
A 2nd foreign language from 3rd grade as a voluntary additional offer
Social learning:
- learning buddy system
- youth mentor projects
- participation in social projects
- youth coaching
- meditation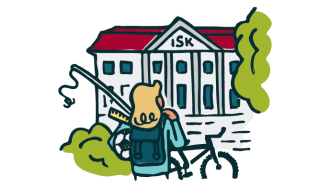 The catholic private school ISK Middle School / Junior High School will be set in Göttweig Abbey with its generous room sizes and green spaces. These are the best conditions for the achievement of the school concept
Pastoral Care - school chaplaincy support during free time, supported by Benedictine monks
All festivals in the church's annual cycle are celebrated
Daily lunch together in a relaxed atmosphere
(Soup, 2 main courses to choose from, and dessert)
Children can acquire their fishing license at the age of 12, to co-care for the on-grounds fish pond
Shared use of the beach volleyball court, soccer field and mountain biking trails around Göttweig Abbey
Theatre and music projects in cooperation with the Youthhouse Göttweig Abbey
Interdisciplinary projects in the fields of art and culture
Support of age-appropriate projects for career orientation (crafts, technology, information technology, sustainability, etc)
The educational contents follow the guidelines of the Austrian curriculum
The school follows a full-day curriculum: learning sequences and interest-based lessons alternate throughout the school day – in accordance with the needs and abilities of the children.
Trained leisure-time educators with an excellent command of English along with native speakers are available during play time. A binding schedule provides the structure for this model and meets the hour requirements for each school level as specified in the Austrian curriculum.
Pupils learn a second language by using the immersion method.
Therefore, English is offered as a second language of instruction at the International School Krems from the beginning to promote international orientation and language competence.
ISK offers two different models which are sure to meet your schooling needs. There is the option of enrolling your child exclusively in the core teaching time (from 8:15 am to 3:30 pm) or making use of full day care from 7:00 am to 5:00 pm, providing continual support for working parents.
The general policy is that lunch is already included in the tuition fee.
Overview of fees:
| | |
| --- | --- |
| Enrollment fee (one-off and non-refundable) | Euro 250,– |
| Kernzeit von 8.15 bis 16.00 Uhr | |
| Tuition (monthly – 12x, incl. lunch) | Euro 479,– |
| Core time with additional care from 7 am - 5 pm | |
| Tuition (monthly – 12x, incl. lunch and early and afternoon supervision) | Euro 579,– |
We are pleased you and your child have decided to join us at the International School Krems. After we have received your completed registration form, you will get an invitation to an admissions consultation.
Registration form
Registration Form Junior High School
The registration form is writeable PDF – please fill it out online, print it out and sign it.
You can download the PDF Software Adobe Acrobat Reader for free here.
Please return the signed registration form, including all required documents, to us at:
Verein ISK Internationale Schule Krems
Dr. Gschmeidlerstr. 28
3500 Krems
M: office@school-krems.at